Back To Menu
Choose Your Package
From $300
Package 2
Pick 4 for $16/person
Package 2 (pick 4 for $16):
Herbed Cream Cheese Mousse on Crostini
Sesame Chicken Wonton Cups
Chicken with Mango Salsa Wonton Cups
Applewood Smoked Pork Slider
Pimento Cheese Biscuits
Roasted Corn & Black Bean Salsa with Tri-Colored Chips
Grilled Vegetables with Homemade Hummus and Pita
Turkey Cuban, Havarti, House Cranberry Chutney Sliders
Mac and Cheese Bites with Jalapeno Pepper Jelly
Italian Style Meatballs with Zesty Marinara
Crispy Asian Wings
Spicy Fried Wings with Blue Cheese and Celery
Sausage Parmesan Stuffed Mushroom Caps
Caramelized Onion, Sun Dried Tomato & Goat Cheese Crostini
Fresh Fruit Display
Domestic Cheese Board
Crudite with Dip
Have you tried this item? Pop it!
Help other diners know what to expect by sharing your experience.
Photo Gallery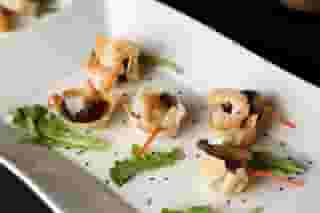 Back To Menu
Choose Your Package
From $300
Package 2
Pick 4 for $16/person
Package 2 (pick 4 for $16):
Herbed Cream Cheese Mousse on Crostini
Sesame Chicken Wonton Cups
Chicken with Mango Salsa Wonton Cups
Applewood Smoked Pork Slider
Pimento Cheese Biscuits
Roasted Corn & Black Bean Salsa with Tri-Colored Chips
Grilled Vegetables with Homemade Hummus and Pita
Turkey Cuban, Havarti, House Cranberry Chutney Sliders
Mac and Cheese Bites with Jalapeno Pepper Jelly
Italian Style Meatballs with Zesty Marinara
Crispy Asian Wings
Spicy Fried Wings with Blue Cheese and Celery
Sausage Parmesan Stuffed Mushroom Caps
Caramelized Onion, Sun Dried Tomato & Goat Cheese Crostini
Fresh Fruit Display
Domestic Cheese Board
Crudite with Dip
  Back To Menu