Back To Menu
Choose Your Package
From $400
Package 1
Pick 5 for $20/person
Package 1:
Pickled Corn & Crab Filled Red Potato
Sesame Asian Asparagus Spears
Cucumber Finger Sandwiches
Shrimp Avocado Lime Ceviche With Pita
Italian Style Meatballs With Zesty Marinara
Roasted Tomato Risotto Cakes with Basil Aioli
Hot Crab Dip Crostini
Brown Sugar Glazed Sweet Potato & Sausage Skewer
Chilled Spicy Shrimp & Sriracha Lime Honey
Balsamic Tossed Tomato, Basil & Mozzarella Bruschetta
Grilled Beef, Goat Cheese & Caramelized Onion Crostini
Shrimp with Lemon Dill Cream Cheese Crostini
Mini Chicken and Waffles
Herbed Mushroom & Cheese Tartlet
Chicken Satay Kababs & Thai Peanut Sauce
Mini Crab Cakes & Spicy Remoulade
Fresh Fruit Display
International Cheese Board
Crudite with Assorted Dips
Have you tried this item? Pop it!
Help other diners know what to expect by sharing your experience.
Photo Gallery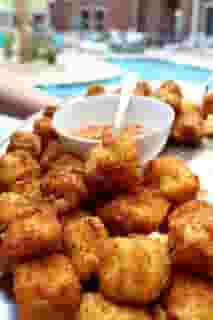 Back To Menu
Choose Your Package
From $400
Package 1
Pick 5 for $20/person
Package 1:
Pickled Corn & Crab Filled Red Potato
Sesame Asian Asparagus Spears
Cucumber Finger Sandwiches
Shrimp Avocado Lime Ceviche With Pita
Italian Style Meatballs With Zesty Marinara
Roasted Tomato Risotto Cakes with Basil Aioli
Hot Crab Dip Crostini
Brown Sugar Glazed Sweet Potato & Sausage Skewer
Chilled Spicy Shrimp & Sriracha Lime Honey
Balsamic Tossed Tomato, Basil & Mozzarella Bruschetta
Grilled Beef, Goat Cheese & Caramelized Onion Crostini
Shrimp with Lemon Dill Cream Cheese Crostini
Mini Chicken and Waffles
Herbed Mushroom & Cheese Tartlet
Chicken Satay Kababs & Thai Peanut Sauce
Mini Crab Cakes & Spicy Remoulade
Fresh Fruit Display
International Cheese Board
Crudite with Assorted Dips
  Back To Menu